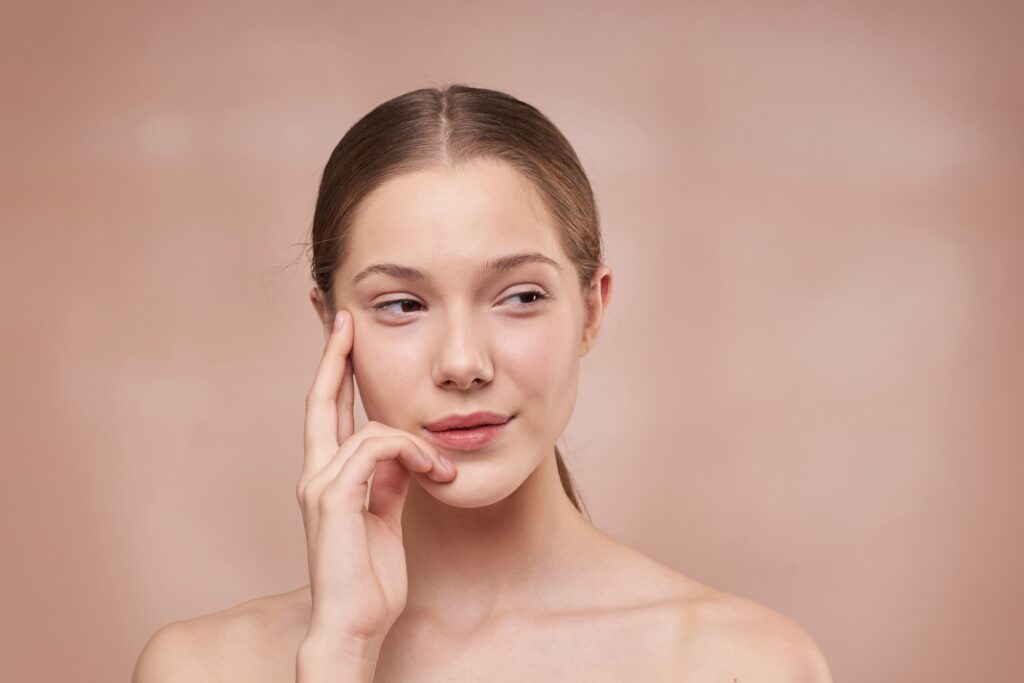 If you have oily skin, you often suffer from several problems such as excess oil, open pores and bothersome pimples, as normal skin tissue produces natural oils daily whose function is to maintain the health of the skin. skin, while oily skin produces more oils than the normal limit, which causes problems for the skin.
And sometimes, using the wrong natural products or the wrong recipes with oily skin causes bigger problems, That is why we offer you a number of natural recipes for oily skin care.
Grape recipe for oily skin
To get rid of excess sebum secretions from the skin, you can use a recipe for grapes, lemon and rose water. You need to prepare a few grapes, a spoonful of lemon juice and a tablespoon of rose water. But if you have sensitive skin, avoid adding lemon.
We take the grapes, wash them, then put them in a blender until they become a smooth paste, then add a tablespoon of lemon juice and a tablespoon of rose water.
Mix all the ingredients well and apply it evenly on the skin, then leave it for 10-15 minutes and wash it off with lukewarm water.
Recipe of ground lupine and green tea to soothe the skin
If the oily skin is sensitive or suffers from redness or inflammation of the skin, the skin care expert recommends using a mixture of ground lupine with green tea and smearing it on the skin to soothe it and leave it on for a period of 10 to 15 minutes, as the mixture contains antioxidants which reduce inflammation and help soothe the skin and when you remove it after the specified period, it should be rinsed off and not scrubbed.
Snow recipe for large pores
To get rid of the problem of large pores, you can run an ice cube on your skin for 30 seconds 3 times a day or wash your face with ice water once a day.
Egg white and lemon recipe
To lighten oily skin, it is recommended to put egg white on the juice of half a lemon, stirring well, then put the mixture on the skin for 10 minutes to dry, rinse with water, and to repeat once.
For bright and clear skin, our skin needs vitamin C, and it can be obtained by placing a tablespoon of yogurt with 5 tablespoons of orange juice and mixing well and applying the mixture to the skin. for 20 minutes and rinsing well with lukewarm water, but this recipe is not recommended for people with sensitive skin.
Natural recipe to treat dark circles
To get rid of dark circles, you can bring a vitamin E capsule, then take its contents and apply it on the dark circles as long as possible, repeat this operation daily for an ideal result, and you can also add vitamin E oil. 'Almond.
In addition to natural prescriptions for treating skin problems, the skin care expert provided several daily tips for the care of oily skin, explaining that oily skin requires special treatment.
And she advised that she cleanse it daily with her own lotion and it is recommended that the lotion to be free of "oil free" and odor as oily skin contains enough oils.
And if you are one of the owners of oily skin and you suffer from red pimples, you should avoid using a 'scrub' so that the pimples do not move to another place on the skin, so it is recommended. to use antibiotics to treat these pimples first to calm the skin.
The skin care expert also explained that people with oily skin suffer from another problem which is the lack of stability of makeup, so she advises them to rub an ice cube on the skin before applying it. and apply a primer to set the makeup.
To hydrate oily skin, the skincare expert recommended using a cream for oily skin, without oils or perfumes.